Product Spotlight: IP12 PC Tower Enclosure

Mt. Pleasant, PA (August 29, 2016) – ITSENCLOSURES, the leader in innovative enclosure design and fabrication, continues to successfully market and sell heavy-duty, industrial computer enclosures in the IceStation line, including the NEMA 12 IP12. The efficient PC tower enclosure is designed to enclose various sizes of computer towers. The IP12 measures 28-inches high by 12-inches wide by 26-inches deep.
The key lockable front door allows for easy access and maintains the utmost in equipment security. The front door opening measures 23-inches high by 8 ½-inches wide.
The 14-gauge steel enclosure comes standard with a rear split panel for dust free cable access and management. Additional accessories include an internal hold-down bracket to prevent toppling, and waterproof USB connectors that can be installed to the front of the enclosure for keyboard and mouse access. The IP12 enclosure is versatile enough to be placed on top or beneath a factory floor desk.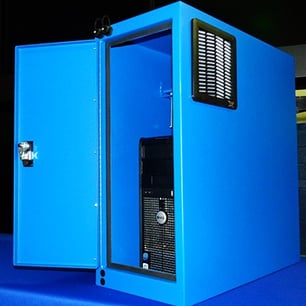 "We are thrilled that our IP series of tower enclosures are installed in manufacturing factories and facilities all over the United States and Canada," said JT Spangler, President of ITSENCLOSURES, "Our products continue to evolve and we plan to introduce new products before the end of the year. ITSENCLOSURES has become synonymous with tough, durable, and heavy-duty enclosures that are guaranteed to last forever and a day. When people think of enclosures for electronics, we want them to think of IceStation first."
Various thermal management options for the IP12 include a filtered fan system, heat exchanger, or vortex cooling unit. The enclosure is available in blue, gray, or, for an additional charge, any RAL color.
The IP series, of PC enclosures, defends against harsh elements, like dust, dirt, splashing fluids, and grease, and will keep a computer tower protected in most harsh environments.
ITSENCLOSURES designs and builds the most durable electronic enclosures on the market and ships all of its quality products completely assembled and ready to use upon delivery.
For more information on ITSENCLOSURES and its large array of industrial products, visit www.ITSENCLOSURES.com, send an email to info@itsenclosures.com, or call 1-800-423-9911 to talk to an ITSENCLOSURES representative.
For additional "Product Spotlights" - visit the following links: