Product Spotlight: IS56 Standup Enclosure


Mt. Pleasant, PA (May 31, 2016) - With over three decades of enclosure knowledge, ITSENCLOSURES is eager to focus on another popular industrial product in the IceStation line: the NEMA 12 IS56 Freestanding Computer Enclosure. This product has been in the ITSENCLOSURES product line for over two decades and is designed to accommodate a computer, monitor, printer, and various other vital electronics. The IS56 measures 56" High x 26" Wide x 26" Deep.
The freestanding computer enclosure comes standard with 3 adjustable, vented shelves for flexibility of positioning important equipment. The top front door has a unique angled window (Tempered Safety Glass or Polycarbonate window options are available), which accommodates up to a 21" desktop monitor. The front and rear doors are key lockable for additional protection and security.
Easily connect a desktop keyboard and mouse with the external tray, which mounts to the front of the enclosure. The tray measures 21" Wide x 11" Deep. A fold down keyboard tray or an extended tray (that measures 26" wide) are also available. To keep cables at a minimum, the keyboard and mouse plug into USB connectors located on the outside of the enclosure.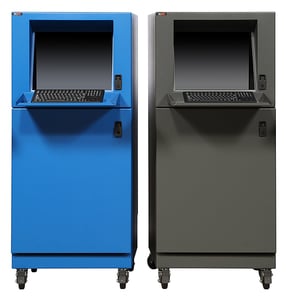 JT Spangler, President of ITSENCLOSURES, spoke highly of this reliable product, "The IS56 has been in our product mix for decades and continues to be a best seller. The continuous popularity of this product showcases our design sustainability and our company's commitment to quality. Technology has changed greatly since this product was first introduced to our customers, and yet it continues to protect whatever is installed inside of it."
A gasketed, tool free split panel is located on the back of the enclosure under the rear door. The split panel allows for dust tight cable entry.
The IS56 enclosure features industrial grade castors that lock in the front and swivel in the rear for stress-free placement on the factory floor. Heavy-duty lift eyes, mounted on the top of the enclosure, can also be used to easily transport the enclosure.
Additional IS56 accessories include a hinged printer door, external folding shelf, printer path, sliding shelf, 19" Wide rack mount rails, or bolt down legs.
Thermal management options include a 200 CFM filtered fan system, which will keep fresh air flowing through the enclosure, numerous sizes of air conditioners, a vortex cooling unit, and a heat exchanger.
The IS56 stand-up computer enclosure is also available in NEMA 04 and NEMA 4X configurations.
ITSENCLOSURES designs and builds the most durable computer, printer, electronics, and monitor enclosures on the market and ships all of its state-of-the-art products completely assembled and ready to use upon delivery.
For more information on the IS56 Freestanding Computer Enclosure, visit the product page:
http://www.itsenclosures.com/is56262612-nema-12-freestanding-computer-enclosure


For additional information on ITSENCLOSURES and the company's vast selection of industrial products, visit www.ITSENCLOSURES.com, send an email to info@itsenclosures.com , or call 1-800-423-9911 to talk to an ITSENCLOSURES expert.