Product Spotlight: PB20 Printer Enclosure
Mt. Pleasant, PA (November 30, 2015) - With over 30 years of enclosure experience, ITSENCLOSURES is proud to shine a spotlight on another successful product in the IceStation line: the NEMA 12 PB20 Printer Enclosure. This innovative product is a printer enclosure designed specifically for barcode printers. The enclosure is constructed out of 14 gauge steel and measures 20" High by 20" Wide by 24" Deep.
The PB20 offers an adjustable 20 inch extended sliding shelf, which provides easy access to the printer and media (labels). The sliding shelf will support bar code printers that weigh up to 80 pounds. A lockable front door features a tough polycarbonate window with a convenient label slot for the printed materials and labels. A fastener secured split entry panel on the lower back allows for dust tight cable and wire entry.
JT Spangler, President of ITSENCLOSURES, is always enthusiastic about the heavy-duty enclosures offered by ITSENCLOSURES,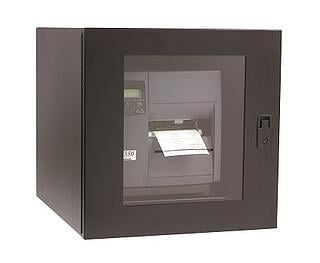 "We work tirelessly to design the best enclosures in the industrial marketplace. All of our printer enclosures are designed to protect desktop or barcode printers from dust, dirt and liquids. Our goal is to always produce the finest enclosures that money can buy without ever sacrificing quality."
Thermal management options include a filtered fan system that can be installed in various places on the printer box. The fan and exhaust have positive pressure that will eliminate dust and dirt entry. Another option is the NEMA 12 heat exchanger, which weighs only 8 pounds and contains two 4 inch 100 circulating fans.
ITSENCLOSURES offers a number of enclosures for varying printer sizes, including freestanding printer enclosures like the IS36, which measures 36" High by 26" Wide by 26" Deep. ITSENCLOSURES' printer enclosures are available in NEMA 12 or 4X ratings based on the customer's unique printing applications. Customize any of the printer enclosures with pedestals at varying heights, solid or viewable front doors, 6 outlet surge protectors for internal power, and different sizes of printer paths for easy, custom label retrieval. All ITSENCLOSURES printer boxes protect from dust and non-corrosive liquids, which is important for harsh industrial and factory settings.
ITSENCLOSURES designs and builds the most durable electronics enclosures on the market and always ships all of their products completely assembled and ready to use upon delivery.
For more information on ITSENCLOSURES and their wide array of state-of-the-art products, please visit www.ITSENCLOSURES.com, send an email at info@itsenclosures.com, or call 1-800-423-9911 to talk to an ITSENCLOSURES representative.