Product Spotlight: IR72192438-12

Mt. Pleasant, PA (March 31, 2016) - With over three decades of expertise in the industrial enclosure market, ITSENCLOSURES is pleased to showcase one of the many popular rack mount enclosures in the IceStation line: the NEMA 12 IR72192438. This multipurpose enclosure is designed to effectively enclose various electronics or rack mount equipment. The IR72 enclosure is constructed out of heavy-duty 12 gauge steel with 16 gauge steel side panels. The enclosure's gasket sealed side panels can be removed, in order to bolt together multiple units. The dimensions of the enclosure are 72"H x 24"W x 38"D.
For rack mounting applications, the IR72 comes with 19-inch wide adjustable mounting rails. It is simple to customize the rack with square punched or tapped rails. The IR72 has 38U of interior rack mount space and the rails attach to the enclosure's uni-strut. The rack mounts rails that are installed in the front and rear of the cabinet and feature a fully adjustable depth to allow proper equipment positioning. Dust-tight split panels are neatly located on the top and bottom of the enclosure for cables or wires of varying sizes.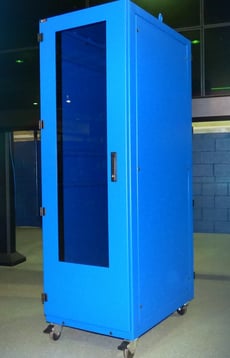 The IR72's front and rear doors can be locked for security with key locking 3-point latches. The full view front door is ideal for equipment monitoring. ITSENCLOSURES offers tempered safety glass or Lexan polycarbonate window options for the front door. The front and rear door feature reversible hinges to increase placement flexibility.
JT Spangler, President of ITSENCLOSURES, discusses ITSENCLOSURES' industrial enclosures, "Our goal has always been to supply our customers with tough and protective enclosures for any harsh environment. During a recent customer visit, we were informed that some of our enclosures had been in use for over 20 years and continued to protect electronics from dust dirt and splashing fluids. We proudly stand behind our products and strive to produce new and innovative enclosure solutions as electronics, computers, printers and monitors change size and advance. 'Forever and a day' will continue to be our warranty. It is the standard that we have set for ourselves since the beginning of the company."
Easily positon the rack mount enclosure around the factory floor with the included industrial grade casters. The front casters are lockable and the rear casters swivel. Lifting eyes, mounted on the top of the enclosure, can also be used to effortlessly transport the enclosure. For those companies that require the enclosure to be stationary, anti-tip legs or bolt down legs are also available.
Thermal management options include a 200 CFM filtered fan system, which will keep air flowing through the enclosure. The inventive fan and exhaust have positive pressure that will eliminate damaging dust and dirt from entering the enclosure. Other thermal management options include air conditioners (2,000-12,000 BTU), a vortex cooling unit, or a NEMA 12 heat exchanger.
ITSENCLOSURES designs and builds the most durable electronic enclosures on the market and ships all of their innovative products completely assembled and ready to use upon delivery.
For more information on ITSENCLOSURES and their large array of industrial products, visit www.ITSENCLOSURES.com, send an email to info@itsenclosures.com , or call 1-800-423-9911 to talk to an ITSENCLOSURES representative.