Product Spotlight: IceStation IS36 Printer Cabinet
ITSENCLOSURES is delighted to focus on another popular industrial product in the IceStation line: the NEMA 12 IS36 Printer Enclosure. This versatile enclosure is designed to adequately house a printer, computer and various peripherals. The IS36 is constructed out of 14 gauge steel and measures 36-inches high by 26-inches wide by 26-inches deep. With included castors, the enclosure stands approximately 40-inches high.

The IS36 enclosure comes standard with two adjustable, vented shelves for flexibility when positioning key equipment. When using the enclosure to house a printer, sliding shelf brackets can be added to effortlessly access the printer to change media and labels.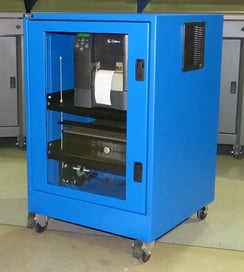 The front and rear doors can be locked for added protection and ITSENCLOSURES offers two window options for the front door: tempered safety glass or Lexan polycarbonate. Additional enclosure door options include a solid front door or a 3-inch extended rear door.
Easily position the printer enclosure around the factory floor with industrial grade castors. The front castors are lockable, while the rear castors smoothly swivel. Looking to keep the enclosure stationary? Bolt down legs can be added for an additional charge.
For unique rack mounting applications, the IS36 is available with 19-inch wide rack mount rails. The rack mount rails attach to the enclosure's uni-strut and are available in a fixed or adjustable position. A tool-free split panel, on the back of the enclosure, allows for dust-tight cable entry.
JT Spangler, President of ITSENCLOSURES, speaking about ITSENCLOSURES' heavy-duty, industrial enclosures said, "Our IceStation line of industrial enclosures continue to please our customers. With an expanding number of thermal barcode printers hitting the market and 3D printers growing in popularity, the IS36 enclosure continues to be one of our bestselling NEMA 12 products. Since 1985, we have been designing and constructing the best computer, printer, electronic, and peripheral enclosures on the market. Our innovative products stand the test of time. We have a large number of customers that have been using our IceStation enclosures for decades. Our enclosure warranty has always been 'forever and a day' and we truly mean it!"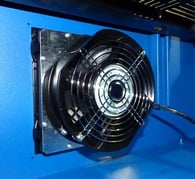 Thermal management options include a 200 CFM filtered fan system, which will keep air flowing through the enclosure. Choose from two different voltages: 115 volt or 230 volt. The state-of-the-art fan and exhaust ports have positive pressure that will eliminate dust and dirt from entering the enclosure and will keep air flowing. Other thermal management options include powerful air conditioners (1,000-BTU, 1,800-BTU, 2,000-BTU, 4,000-BTU, and 6,000-BTU) or a NEMA 12 heat exchanger, which mounts on the outside of the enclosure and includes two 4-inch 100 CFM fans.
The IS36 printer enclosure is also available in Type 304 Stainless Steel.
ITSENCLOSURES designs and builds the most durable electronic enclosures on the market and ships all of its innovative products completely assembled and ready to use upon delivery.
For more information, visit the IS36 Printer Enclosure Product Page.
For more information on ITSENCLOSURES and a large array of industrial products, visit www.ITSENCLOSURES.com, send an email to info@itsenclosures.com , or call 1-800-423-9911 to talk to an ITSENCLOSURES representative.