ITSENCLOSURES Introduces 4th Generation of Outdoor Digital Menus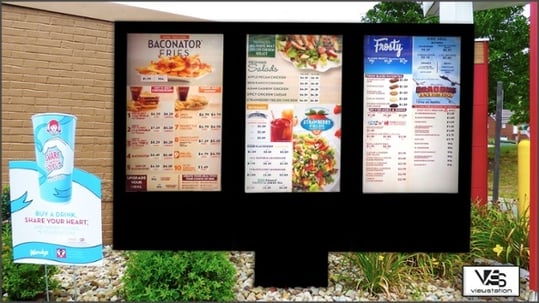 Mt. Pleasant, PA (October 29, 2015) -- For over 30 years, ITSENCLOSURES has been engineering and producing the most heavy-duty and innovative electronic enclosures on the market. ViewStation 'Outdoor Digital Menu Boards' by ITSENCLOSURES have been impressing drive-thru customers for almost 10 years with deployments at many popular quick service restaurants throughout the United States, Canada and the Caribbean.

To stay ahead of the curve and competition, ITSENCLOSURES recently introduced its FOURTH generation ViewStation QSR enclosure line, which is sleeker, more energy efficient and better than ever before.

What is new and different?

With a custom base, the brand new Fourth Generation QSR enclosures are manufactured to be easily customizable for stress-free deployment and have the ability to be one, two, three, or four displays wide. Unlike previous generations, displays can now be used in portrait or landscape orientation. What does that mean for the end user? If a QSR utilizes indoor digital menu boards in landscape orientation, the outdoor menus can use the same eye-catching content. This greatly reduces the life-cycle cost and time to produce creative designs for varying sizes. Landscape oriented menu boards can also be configured to have one, two, three, or four displays.

"Our engineering team continues to innovate year in and year out. The latest generation digital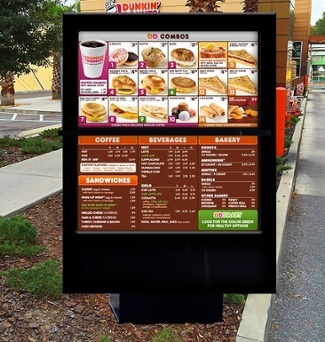 menu boards are completely customizable, which makes them more attractive to QSR's across the country," said JT Spangler, President of ITSENCLOSURES, "We always strive to be the overall leader in digital at the drive-thru. Our products stand the test of time. In fact, we evaluate all products on our on-site test pad for a considerable amount of time, before we introduce them to the public. The ITSENCLOSURES' commitment to quality and durability will never waiver."
New Features Include:
Glass and frame can be removed for replacements if/when necessary
Customizable side and top panels available with company's branding colors
Brighter IPS (In-Plane Switching technology) LCD panel with more vibrant colors
Reduced energy consumption
The Fourth Generation enclosures have rear serviceability for easy access and simple display installation. Important assets are located on the rear door, which contains the fan system, temperature monitor, and the media player. The incoming power and data connections are located below the displays (near the bottom of the enclosure) and include fan controls, a heater, and a power strip.
"I have been to countless installations and I have seen the trials and tribulations," Mr. Spangler explained, "I really challenged my team to create a simple to install and even simpler to operate enclosure solution. Let's face it, quick service restaurants cannot afford to have vital menu boards inoperable for even an hour. In the unlikely event something goes down for any reason, it must be simple to locate and quick to remedy. I feel certain we have the most reliable and servicable solution on the market."
As was the case with the Generation III enclosures, ITSENCLOSURES designed its ViewStation QSR Gen IV enclosure to house LCDs and other electronics in outdoor environments with varying degrees of extreme temperatures. ITSENCLOSURES has created and incorporated a propriety, high volume, quiet air moving system that allows functionality from -20° to 110° F, even with direct sunlight exposure. The ViewStation QSR enclosure system is UL Listed and built to meet NEMA 3R ratings.
The Fourth Generation outdoor digital menu board enclosures are currently being tested in real world conditions on the outdoor ITSENCLOSURES test pad and will be ready for deployment across the country and around the world in the 4th quarter of 2015.
Generations of ViewStation QSRs are currently installed in over 200 drive-thru locations throughout the United States, Canada and the Caribbean. ITSENCLOSURES has almost 10 years of experience in successful QSR deployments and offers a wide variety of digital drive-thru menu board solutions. Attractive designs include high-bright displays for the ultimate in visibility. Enclosure solutions are available in standard and custom configurations to enhance the drive-thru experience and match any company's marketing or branding scheme.
About ITSENCLOSURES
Located 36 miles southeast of Pittsburgh in Mt. Pleasant, Pennsylvania, ITSENCLOSURES designs and builds the toughest industrial enclosures on the market. ITSENCLOSURES' line of computer enclosures, printer enclosures, server enclosures, and LCD enclosures protect a company's investment and maximize the lifetime of the electronics protected. ITSENCLOSURES' products are always 'Made in the USA' and allow companies to safely use any electronics in the harshest operating environments. ITSENCLOSURES has been helping companies protect technology investments and realize the maximum life cycle of their equipment since its founding in 1985.
Contact:
To learn more about ViewStation or ITSENCLOSURES, please contact:
Jennifer Bissell, Director of Sales & Marketing, 1-800-423-9911 –or– info@itsenclosures.com