Product Spotlight: Stainless-Steel IceStation TITAN Computer Enclosure (NEMA 4X)
Mt Pleasant, PA (December 29, 2017) – ITSENCLOSURES (Integration Technology Systems) engineers and fabricates the most heavy-duty pc enclosures, monitor enclosures, thermal label printer enclosures, and electronic enclosures on the market.
Designed specifically for washdown environments, the NEMA 4X IceStation TITAN (IS603027-4X) enclosure body is constructed out of 14-gauge, type 304 stainless-steel and 12-gauge doors with a #3F vertical finish. The computer enclosure stands 60" high by 28" wide by 27" deep, with a sloped top for cleaning and water run-off.
The stainless-steel TITAN's lower portion provides ample space to house a computer, printer, UPS, power supply, and additional vital electronics. An adjustable shelf, attached to uni-strut, is included for effortless placement of electronics. The rear door (50.95" high by 24.85" wide) is ideal for accessing the back of electronics stored inside of the enclosure. The lower front door (27.45" high by 24.85" wide) and rear door feature lift-off hinges for easy door removal, quarter turn knob-style compression latches, and dual durometer EPDM gasket to ensure a water-tight seal.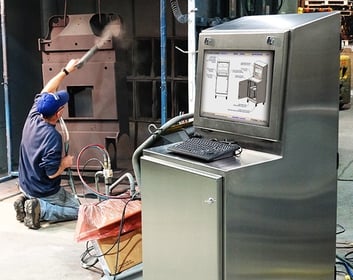 "Over the past few years, the stainless-steel IceStation TITAN has become one of our most popular NEMA 4X enclosures," said JT Spangler, President and Owner of ITSENCLOSURES. "The NEMA 4X TITAN is the perfect computer enclosure for the food and pharmaceutical industry. Available in NEMA 12, 4, and 4X, our complete line of TITAN enclosures are the most heavy-duty computer enclosures on the market and are a powerful addition to any factory or manufacturing facility."
The viewing window is available in tempered safety glass or polycarbonate materials. The monitor door is hinged at the bottom and folds down to accept up to a 24" 16x9-wide screen monitor. An adjustable monitor shelf, with popular VESA mounting patterns, is included for clear-cut monitor installation. For space saving applications, the shelf can be used as a VESA mount, eliminating the need to use the monitor stand. In addition, the shelf can be used as a standard monitor stand.
Below the monitor, the NEMA 4X TITAN has a sloped work surface, measuring 28" wide with a 5-degree slant, for a keyboard, mouse, switches, or to simply use as a writing surface.
Heavy-duty, swivel casters are a standard feature. When the enclosure is in its desired location, the front casters lock into place. For areas that require a stationary workstation, bolt down legs or sanitary legs can be installed in place of the enclosure's castors.
Customize the NEMA 4X TITAN with accessories, including sliding shelf brackets, 19" wide rack mount rails, dual waterproof USB ports (for outside connections), sealed cable entry glands, power strips, sub-panels, industrial keyboards or various thermal management options, such as a heat exchanger or vortex cooling unit.
Proudly 'Made in the USA,' ITSENCLOSURES ships its innovative products completely assembled and ready to use upon delivery.
---

About ITSENCLOSURES
Located southeast of Pittsburgh in Mt. Pleasant, Pennsylvania, ITSENCLOSURES designs and builds the toughest computer enclosures on the market. NEMA rated PC enclosures are ideal for any and all environments where dust, dirt and exposure to liquids or corrosives are present.
Founded in 1985, ITSENCLOSURES' products allow companies to use computers, printers, or monitors in the harshest environments. ITSENCLOSURES' impressive line of enclosures protect a company's investment and maximize the lifetime of the electronics protected.
Four great reasons to choose ITSENCLOSURES: quality, delivery, customer service, and price!
For more information on ITSENCLOSURES and their extensive array of state-of-the-art products, please call 1-800-423-9911 to speak to a salesperson or email info@itsenclosures.com