Product Spotlight: Rack Mount Enclosure IR40
Mt. Pleasant, PA (December 29, 2015) - With over 30 years of enclosure experience, ITSENCLOSURES is thrilled to focus on another successful product in the IceStation line: the IR40 Rack Mount Enclosure. Constructed out of heavy-duty 12 gauge steel, the rack mount enclosure measures 40" High by 24" Wide by 42" Deep, making it one of the deepest enclosures in the ITSENCLOSURES line of products.
The IR40 is perfect for various industrial settings. This dust proof enclosure is equipped with 19inch wide fully-adjustable mounting rails with 20U or 35 inches of interior rack mount space. The front door features a full view glass window and both the front and back doors have two key locking latches.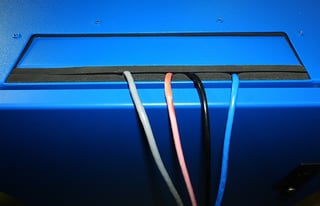 The durable side panels are constructed out of 16 gauge steel and can be removed, in order to combine or join together multiple enclosures. With industrial grade casters, the IR40 can be positioned on the manufacturing floor with ease. Need to secure the cabinet to the floor? Bolt down legs are available to be installed in place of the casters.
A fastener secured split entry panel on the bottom and top of the enclosure back allows for dust tight cable and wire entry (see image).
According to JT Spangler, President of ITSENCLOSURES, innovative industrial products make ITSENCLOSURES stand out from the crowd, "We are not surprised that our industrial products, like the IR40 rack mount enclosure, sell quite well each and every year. They are the best enclosures on the market and the name 'ITSENCLOSURES' continues to resonate amongst customers and the competition. Our products are always tough and built to last for many years. Computers, peripherals and any other vital electronics are carefully protected in our products. It is just that simple. Our warranty is always forever and a day!"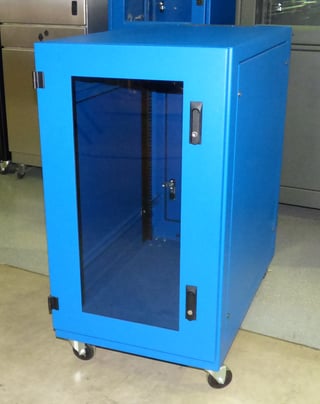 Thermal management options include a filtered fan system that can be installed in several places on the rack mount enclosure. The fan and exhaust have positive pressure that will eliminate harmful dust and dirt entry. A NEMA 12 heat exchanger, which weighs only 8 pounds and contains two 4 inch 100 circulating fans, is another viable option. For warmer environments, air conditioners are available to help create the perfect temperature to successfully operate servers, uninterrupted power sources (UPS), and other electronics.
Customize the IR40 with fixed or sliding shelves, cable management, and rack mountable power strips.
Every NEMA 12 enclosure by ITSENCLOSURES protects against dust, dirt and grease, which are prevalent in most manufacturing settings.
ITSENCLOSURES skillfully designs and expertly builds the most durable electronics' enclosures on the market and ships every product completely assembled and ready to use upon delivery.
For more information on ITSENCLOSURES and their large array of state-of-the-art products, please visit www.ITSENCLOSURES.com, email info@itsenclosures.com, or call 1-800-423-9911 to talk to an ITSENCLOSURES representative.