Product Spotlight: Industrial Flat Panel Monitor Enclosures for 22" Monitor
Mt Pleasant, PA (January 31, 2018) – ITSENCLOSURES has been engineering durable enclosures for over three decades and the company's IceStation line of products are the leader in heavy-duty, industrial computer, monitor, and printer enclosures. ITSENCLOSURES' best-selling monitor enclosure line includes the IO28268 flat panel monitor enclosure, available in both NEMA 4 and NEMA 4X.
The IO28 enclosure can be deployed outdoors or indoors and is specifically designed to protect a wide screen monitor (up to 22 inches) and a thin client computer. Ideal for areas with limited space, the enclosure measures 28" High x 26" Wide x 8" Deep.
The NEMA 4 rated enclosure is constructed out of carbon steel (14/12 gauge CRS welded construction), and offered in blue, gray, or any custom RAL color. The NEMA 4X rated enclosure is fabricated from type 304 stainless steel (14/12 gauge) and is the perfect fit for the Food & Beverage and/or Pharmaceutical industry.
The NEMA 4X IO28 enclosure features a sloped top for wash down applications and will prevent water pooling.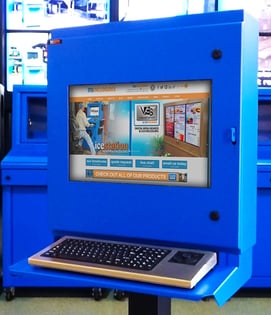 The NEMA 4 and NEMA 4X enclosure doors feature a padlock staple and a viewing window (19.25" X 12.25" and 22.8" diagonal) that is available in polycarbonate or tempered safety glass. The enclosure door is opened with two quarter-turn, flathead screwdriver style latches. As an add-on, key locking latches are also available.
"We continue to be the leader in industrial, heavy-duty enclosures. Whether it is indoors or outdoors, flat panel monitor enclosures are stellar products for deploying computer monitors in harsh, dirty, manufacturing environments. Like many of our IceStation products, these enclosures evolved from a need to use electronics in a place where they would not normally survive unless properly protected," said JT Spangler, President and Owner of ITSENCLOSURES. "This product has been on the market for many years and continues to sell to new and returning customers."
Both enclosures include an integrated VESA mount, which eliminates the need to utilize the monitor stand. For access behind the monitor, the VESA bracket tips forward to provide space to house a small form PC and surge protector. For proper airflow, the VESA support has a built-in 100 CFM fan. ITSENCLOSURES offers additional thermal management options, including a closed loop heat exchanger and a vortex cooling unit (requires compressed air).
The IO28 enclosures can be customized to include a fixed or fold down external keyboard tray (available in carbon steel and/or stainless steel) or roll-out keyboard drawer (folds down to offer an ergonomic wrist rest) to house a keyboard and mouse. The flat panel monitor enclosures can be mounted to a wall using a universal mounting bracket, pole, bolt-down pedestal, or mobile pedestal. A waterproof, cable entry gland can be installed to route cables into the enclosure.
Mr. Spangled added, "We provide effective enclosures, for any operating environment, to protect vital electronics from dirt, dust, fluids, and corrosive materials."
In 2018, ITSENCLOSURES plans to add more exciting enclosure products to the marketplace throughout the year.


---
About ITSENCLOSURES
Located southeast of Pittsburgh in Mt. Pleasant, Pennsylvania, ITSENCLOSURES has been designing and fabricating the toughest computer enclosures that you can find. Their NEMA rated PC enclosures are ideal for any environments where dust, dirt and exposure to liquids or corrosives are present.
ITSENCLOSURES' line of computer enclosures, printer enclosures, server enclosures, network enclosures and electronic enclosures protect your investment and allow you to maximize the life of your electronics. Always 'Made in America,' ITSENCLOSURES' products allow companies to securely use any computer, printer, or monitor in the harshest operating environments. The company has been helping companies protect their technology investments and realize the maximum life cycle of equipment since 1985.
# # # #