Viewstation LCD ENCLOSURES INSTALLED AT u.S. cELLULAR FIELD STILL GOING STRONG SINCE 2007

Mt. Pleasant, PA (June 10, 2015) -- U.S. Cellular Field, home of the Chicago White Sox, turned to ITSENCLOSURES to provide a reliable LCD enclosure solution. The enclosures needed to function in direct sunlight during baseball games. U.S. Cellular Field was seeking a way to keep fans in the game, while visiting the always fun party deck. ViewStation LCD enclosures were selected and installed in the spring of 2007.
The party deck is located above the batter's eye in center field and makes for an enjoyable hangout spot during the game. The party deck features a number of ViewStation enclosures that televise the live game, so that patrons are not missing out on the action when purchasing a Chicago-style hot dog, enjoying a cold beer or doing a little shopping.
"On a recent trip to Chicago, I was thrilled to see the enclosures performing well," said Jennifer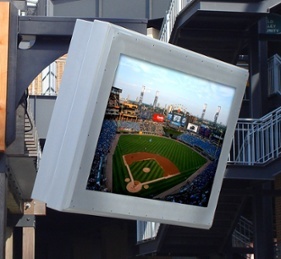 Bissell, Director of Sales and Marketing at ITSENCLOSURES. "After almost a decade since the original installation date, the enclosures looked great" Bissell continued.
ITSENCLOSURES strives to offer the absolute best customer service and enclosure products on the market. Day in and day out, ITSENCLOSURES encloses electronics in varying environments and have grown into a formidable player in the outdoor digital signage market.
"Our products speak for themselves," said J.T. Spangler, President at ITSENCLOSURES. "U.S. Cellular Field is a perfect example of the fact that the ViewStation line of LCD Enclosures are engineered and built to last for years. You will likely need to replace the LCD before our enclosure," said Spangler.
ITSENCLOSURES' innovative line of ViewStation products include vandal proof, all-weather LCD enclosures, outdoor digital menu boards, protective LCD covers, and kiosk solutions. Since 1985, ITSENCLOSURES has been revolutionizing enclosures used by companies in the United States, Canada and the Caribbean. Enclosures by ITSENCLOSURES are always 'Made in America!'
Contact:
To learn more about ViewStation or ITSENCLOSURES, please contact:
Jennifer Bissell, Director of Sales & Marketing
1-800-423-9911 –or– info@itsenclosures.com