Product Spotlight: Desktop TITAN Computer Enclosure
Mt. Pleasant, PA (March 29, 2017) – For over 3 decades, ITSENCLOSURES has been a leader in the engineering and fabrication of computer and electronic enclosures. ITSENCLOSURES' products keep vital systems running smoothly in any industrial setting. The IceStation Desktop TITAN (ID303130-12) is the most modern product that encloses a monitor, keyboard, and computer in a manufacturing environment. The NEMA 12 desktop enclosure protects electronics and defends against dust, dirt, grease, splashing fluids and other harsh contaminants. It measures 31-inches high by 30-inches wide by 30-inches deep.
For a smooth installation, the efficient Desktop TITAN can be placed on a desk, workspace, table, or mounted on a mobile or bolt down pedestal.
The standard features for the 12-gauge steel enclosure, include: an adjustable monitor shelf with a VESA mount (75mm x 75mm and 100mm x 100mm), integrated, ergonomic keyboard/mouse drawer with a removable sloped work surface, and a tempered safety glass viewing window (13.4-inches high by 21.0-inches wide) designed to accommodate a 24-inch wide screen format display, with the option to remove the front door to accommodate a 27-inch screen.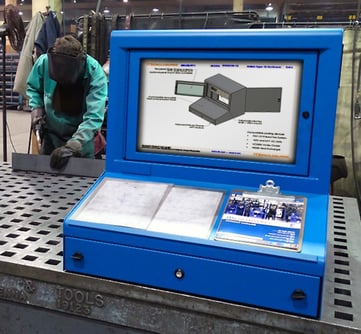 The lockable rear door allows equipment to be easily accessed behind the enclosure. The rear door opening measures 25.86-inches high by 25.45-inches wide. A sealed cable entry gland can be installed on either side of the enclosure for dust-free wire and cable exit.
"The IceStation TITAN products, available in NEMA 12, 4, and 4X, continue to be best-selling enclosures. The Desktop TITAN is perfect for customers that do not need a free-standing or stand-up enclosure, but need to protect a monitor, computer, and keyboard," said JT Spangler, President of ITSENCLOSURES. "Since 1985, ITSENCLOSURES continues to produce new, innovative products unique to the enclosure market. Above all, the IceStation products are heavy duty and always built to last," continued Spangler.
To help extend the life span of the electronics, ITSENCLOSURES offers multiple thermal management options. Install a filtered fan system to create positive pressure inside of the enclosure and eliminate damaging dirt and dust entry. For more extreme environments, a NEMA 12 heat exchanger, air conditioner (1,000 or 1,800 BTU), heater, or a vortex cooling unit can help create the perfect operating temperature in many varying environments.
As with most IceStation enclosures, the desktop TITAN is available in blue, gray, or any custom color found on the RAL color chart.
ITSENCLOSURES designs and builds the most heavy-duty computer enclosures on the enclosure market and ships every product completely assembled, ready to use upon delivery.
For more information on ITSENCLOSURES and their wide array of innovative products, please email ITSENCLOSURES (info@itsenclosures.com) or call 1-800-423-9911 to speak to a sales specialist.


Visit the Desktop TITAN product page: Click Here
---
About ITSENCLOSURES
Located 36 miles southeast of Pittsburgh in Mt. Pleasant, Pennsylvania, ITSENCLOSURES designs and builds the toughest computer enclosures on the market. NEMA rated PC enclosures are ideal for any and all environments where dust, dirt and exposure to liquids or corrosives are present.
ITSENCLOSURES' line of computer enclosures, printer enclosures, server enclosures, and LCD enclosures protect a company's investment and maximize the lifetime of the protected electronics. ITSENCLOSURES' products are always 'Made in the USA' and allow companies to safely use any computer or LCD monitor in the harshest operating environments. ITSENCLOSURES has been helping companies protect technology investments and realize the maximum life cycle of their equipment since its founding in 1985.