ITSENCLOSURES PARTAKES IN SUCCESSFUL DIGITAL SIGNAGE INSTALLATION FOR MIAMI-DADE TRANSIT AUTHORITY

Mt. Pleasant, PA (July 27, 2015) -- The Miami-DADE Transit Authority set out to upgrade aging, static signage with vibrant, dynamic digital signage. With over 25 stations in the Miami, Florida region, the project was a sizable opportunity and would require multiple LCDs and environmental enclosures at each station.
After competitive bidding on the project was concluded, ITSENCLOSURES was awarded the LCD enclosure portion of the digital signage upgrade. The project consisted of over 100 outdoor LCD enclosures.
"This was a huge validation of our innovative solutions at ITSENCLOSURES. We were very excited to be awarded the project and wanted it to be, not only successful for the Miami-Dade Transit Authority, but extremely beneficial to the people and travelers in the region," said J.T. Spangler, President of ITSENCLOSURES. "As always, our experienced and knowledgeable team was up for the challenge and delivered in a big way."
ITSENCLOSURES was chosen
for its vast transportation experience and ability to safely enclose LCDs and other electronics outdoors. Also, ITSENCLOSURES had the resources to custom engineer and fabricate enclosures specific to the needs of Miami-DADE.
"I wanted this installation to be extremely successful from every vantage point. Failure is never an option and we wanted our established products to prove themselves, once again, to be the best on the market, even in the hot, humid sun of Miami," said Ed Calhoun, Engineering Manager. "We love to be a part of distinct projects that will impact a vast group of people. The people of Miami will get to see and experience our products whenever they take a train, bus, or airplane. That is very exciting for us!"
The enclosure installations were executed over a two year period. Over 25 stations in the Miami region were upgraded with digital signage enclosures. The project included over 90 ViewStation Array 2x1 LCD enclosures. Each enclosure housed two 40-inch LCDs in landscape orientation.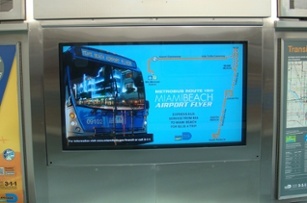 The solution consisted of custom mounting specific to each station, four layer sacrificial window film to deter costly vandalism, and an integrated speaker system for emergency communications.
In addition, 8 custom 55-inch ViewStation enclosures were designed specifically for Miami DADE's MIC (Miami Intermodal Center) station. The MIC station is just east of the Miami International Airport. The custom enclosures were retrofitted into existing static signage, which saved Miami DADE time and money.
The enormous Miami-DADE Transit Authority project adds to an already widely successful transportation project portfolio for ITSENCLOSURES. With the ability to custom engineer LCD enclosures tough enough to survive a rugged transportation environment, ViewStation LCD enclosures are a natural choice for stations throughout the United States and Canada.
Contact:
To learn more about ViewStation or ITSENCLOSURES, please contact:
Jennifer Bissell, Director of Sales & Marketing, 1-800-423-9911 –or– info@itsenclosures.com