ITSENCLOSURES Launches New Website Store for Spare Parts


Mt. Pleasant, Pa (October 09, 1017) – In business for over thirty years, ITSENCLOSURES recently launched an online store on the company's website (www.itsenclosures.com) that allows customers to purchase select replacement parts.
The website store carries various spare parts and accessories for ITSENCLOSURES' IceStation line of products. Available accessories include thermal management tools, such as filtered fan systems, replacement fans, filters, and thermostats. Additional products, on the store page, include surge protectors, USB connectors, and industrial keyboards.
Most of the items on the website are 'always in stock' and can ship to customers within 1-2 days.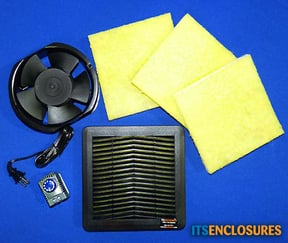 In addition, ITSENCLOSURES offers free USPS priority shipping on all products sold on the website store.
Customers can pay securely via credit card, including Visa, MasterCard, and Discover. If a customer needs to pay with an American Express credit card or by check, they can call toll-free (1-800-423-9911) and speak with a sales associate.
"At ITSENCLOSURES, we want our customers to have the ability to easily purchase popular accessories such as filters, fans, and thermostats," said JT Spangler, President and Owner of ITSENCLOSURES. "Through our new website store, loyal customers can order accessories around the clock and even on weekends, which will allow them to receive needed products swiftly and efficiently."
ITSENCLOSURES plans to add additional accessories to the store in the months to come.
In business since 1985, ITSENCLOSURES has been engineering and fabricating the toughest, state-of-the-art computer, monitor, and printer enclosures on the market. The large line of NEMA rated PC enclosures are ideal for any setting where dust, dirt, grease, liquids, or corrosives are present.
To visit the store, Click Here
For a full list of IceStation accessories, Click Here
To learn more about ITSENCLOSURES, please call 1-800-423-9911 –or– email info@itsenclosures.com


---

About ITSENCLOSURES
Located 36 miles southeast of Pittsburgh in Mt. Pleasant, Pennsylvania, ITSENCLOSURES' computer enclosures, printer enclosures, server enclosures, network enclosures, and electronic enclosures protect your investment and allow you to maximize the life of your electronics.
ITSENCLOSURES' products are always 'Made in the USA' and allow companies to safely use most computers, printers, and monitors in the harshest operating environments. Since its founding in 1985, the company has been helping companies protect their technology investments and realize the maximum life cycle of their equipment.