ITSENCLOSURES Introduces Brand New Website

Mt. Pleasant, PA (April 21, 2016) – Since 1985, ITSENCLOSURES (Integration Technology Systems) has been skillfully engineering and manufacturing the most heavy-duty and innovative computer, printer, LCD, server, and electronic enclosures on the market.
ITSENCLOSURES is proud to announce the launch of the company's all-new, mobile friendly, responsive website, www.ITSENCLOSURES.com. While the URL remains the same, the website has a renewed look and feel with easier navigation on any device.
One of the most significant changes with the launch of the new website is the consolidation of the ViewStation site with ITSENCLOSURES. For years, the ViewStation product line, which is comprised of LCD enclosures, outdoor digital menu boards and custom kiosks, was, www.viewstation.com.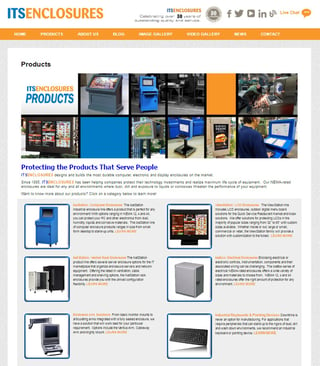 All of the ViewStation products can now be found on ITSENCLOSURES.com. "The decision to merge the two sites made sense for our customers," said Jennifer Bissell, Director of Sales and Marketing at ITSENCLOSURES. "Many ViewStation customers found us through the ITSENCLOSURES website, but would find it confusing when they were directed to another website. With everything under one roof, products are easier to find."
Fresh Features:
New, high resolution banners that showcase the hottest products
Easier to navigate with updated main menu and drop down menus
More product videos and imagery for IceStation and ViewStation
Product pages updated with image galleries, videos, quote requests, and data sheets
Social media buttons to connect with the ITSENCLOSURES team
Latest news and product spotlights page updated regularly
Quick buttons to download brochures, request a quote, live chat, and email
Scrolling banners at the bottom of the homepage highlight an impressive array of customers
Product pages devoted to thermal management, enclosure accessories, and purge controls
JT Spangler, President of ITSENCLOSURES, has been anticipating the launch of ITSENCLOSURES.com and was thrilled with the final product, "Our website is now easier to use, has brighter and high resolution graphics, and contains comprehensive information about our entire product line. The site looks fantastic on everything from desktop computers to tablets to smartphones. I cannot stress enough how important it is to have a respomsive presence on the web. We have clients from all over the world and this is the best way to present our products across the globe. This website will continue to evolve and we will make a conscious effort to never let content become stale or out-of-date. Our commitment is to provide new, informative blogs, articles, eye-catching videos and photos each month moving forward."
Since its launch at the beginning of April 2016, the ITSENCLOSURES team has had a positive response from customers and users of the site. Customers are able to keep up to date with various product announcements, blogs, and informational videos.
>Visit the site, www.ITSENCLOSURES.com and see for yourself!<
About ITSENCLOSURES
Located 36 miles southeast of Pittsburgh in Mt. Pleasant, Pennsylvania, ITSENCLOSURES designs and builds the toughest industrial enclosures on the market. ITSENCLOSURES' line of computer enclosures, printer enclosures, server enclosures, and LCD enclosures protect a company's investment and maximize the lifetime of the electronics protected. ITSENCLOSURES' products are always 'Made in the USA' and allow companies to safely use any electronics in the harshest operating environments. ITSENCLOSURES has been helping companies protect technology investments and realize the maximum life cycle of their equipment since 1985.
Contact:
To learn more about ITSENCLOSURES, please contact:
Jennifer Bissell, Director of Sales & Marketing, 1-800-423-9911 –or– info@itsenclosures.com