ITSENCLOSURES Introduces New Desktop Rack Mount Enclosure

Mt. Pleasant, PA (June 29, 2018) – Designing and developing the most durable enclosures on the market, ITSENCLOSURES has announced another tough, heavy-duty enclosure: the IceStation IR262428-12, a NEMA 12 desktop rack mount enclosure.
The IceStation desktop rack enclosure is designed to shield and protect rack mountable electronics in harsh and dirty factory facilities. The IR26-12 is fabricated out of 14-gauge painted steel (black powder coated) and measures 26" high by 24" wide by 28" deep.
The interior of the enclosure features front and rear mounting rails which are square punched for use with cage nuts. The total interior space is 12U, which is approximately 21" high.
The IR26 has lockable front and rear doors for protection from the elements and includes lift and turn compression latches. The front door includes a polycarbonate window.
JT Spangler, Owner and President of ITSENCLOSURES, understands the utter importance of enclosures in dusty, dirty manufacturing facilities, "If you are going to deploy expensive rack mountable equipment in a factory environment, vital electronics should be housed inside of a tough, NEMA rated enclosure. If the electronics are exposed to harmful elements, then they will most likely fail and cause serious and costly downtime. Our IR26 will keep powerful tools up and running for many years to come."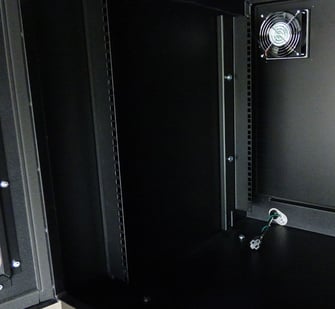 The NEMA 12 IceStation IR26 protects against dirt, dust, splashing fluids, grease, lint, and destructive fibers in the air.
To easily route cables and wires, a dust-tight, water-tight Roxtec cable entry gland can be installed on the rear or sides of the unit. Additional accessories available, include a 10-foot power cord to run electricity into the inside of the box, a 6-outlet surge protector, rack mountable shelving, and a solid front door.
For thermal management, a filtered fan system will create positive pressure on the inside of the enclosure and prevent any harmful dust and dirt from entering the cabinet. For cooler environments, a thermostatically controlled heater can be added to maintain a desired temperature.
For additional flexibility, the IR26 can be installed on an adjustable stationary pedestal or an adjustable mobile pedestal.
"Our creative team is constantly working on generating enclosure solutions and accessories to meet the demand of the ever-changing industrial sector. We strive to design products that will protect distinct types and sizes of electronics in areas where electronics would not otherwise survive," added Mr. Spangler.
ITSENCLOSURES manufactures the most durable electronics enclosures on the market and ships every product completely assembled and ready to use upon delivery. Every product is designed and fabricated in Western Pennsylvania, outside of Pittsburgh.


---
About ITSENCLOSURES
Located in Mt. Pleasant, Pennsylvania, ITSENCLOSURES' products allow companies to use computers, printers, keyboards, or monitors in the harshest environments. IceStation enclosures will protect a company's investment and maximize the lifetime of the electronics protected.
NEMA rated computer enclosures are perfect for all environments where dust, dirt and exposure to liquids or corrosives are present.
For more information on ITSENCLOSURES and the large selection of innovative enclosures, visit www.ITSENCLOSURES.com, email info@itsenclosures.com, or call 1-800-423-9911 to talk to an ITSENCLOSURES sales representative.
###