ITSENCLOSURES INSTALLS vIEWsTATION qsr fAN cOOLED Menu Board at Burger King in Fort Hood, Texas

Mt. Pleasant, PA (March 23, 2015) -- ITSENCLOSURES is proud to announce the latest ViewStation QSR installation in Fort Hood, Texas. The recently introduced Fan Cooled Quick Service Restaurant (QSR) Digital Menu Board was greeted with great fanfare from employees and customers alike. The bright and simple to read menu board will make ordering Whoppers, fries, and salads easier and quicker. With fan cooled technology, ITSENCLOSURES' new outdoor digital menu board boasts a 66% energy consumption reduction, compared to compressor based competitors.
ITSENCLOSURES' President, J.T. Spangler, was on site during the removal of the old static sign and installation of the new digital menu board. "From fast food restaurants to sports stadiums to transportation terminals, it is always a pleasure to see our high quality digital menu boards replace old, tired, and static signage," said Spangler. "I love to see first-hand the dramatic difference between our digital menu board systems and static signage at drive-thru's, like the one at the Fort Hood Burger King."
With single point rear serviceability, electronics or media players can be accessed without disruption to the drive-thru lane. "With several hundred successful QSR drive-thru deployments since 2008, we have learned a great deal," said Shannon Roberts, Installation and Production Manager at ITSENCLOSURES. "The fan cooled menu boards are our easiest to install and service to date."
The fan cooled ViewStation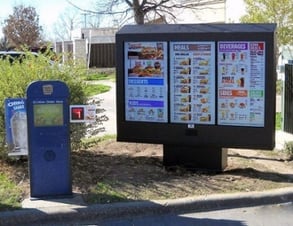 QSR is UL 48 listed and ready to be installed in a drive-thru near you today! The enclosure is constructed of structural aluminum and employs stainless steel hardware. The viewing window is a dual sided laminated anti-reflective glass that is museum quality to ensure the ultimate visibility. The 47" high bright LCDs - with automatic dimming capabilities - are installed in portrait orientation. Even in direct sunlight, the proprietary air flow system will keep the internal environment temperature regulated properly!
ITSENCLOSURES offers a 3 year standard warranty, with the option to extend up to 5 years on all components. ViewStation QSR is perfect for fast food drive-thru's, bank drive-thru's, sidewalks, pharmacies, and many more outside public venues.
ViewStation's innovative line of products by ITSENCLOSURES provides vandal proof, all-weather LCD enclosures, outdoor digital menu boards, protective LCD covers, and kiosk solutions for all of your digital signage protection needs! Since 1985, ITSENCLOSURES has been revolutionizing enclosures used by companies in the United States, Canada and the Caribbean.