ITSENCLOSURES INSTALLS 72-INCH lcd ENCLOSURE AT THE NEW Whitney MUSEUM OF American ART

Mt. Pleasant, PA (May 15, 2015) -- ITSENCLOSURES recently installed another successful outdoor ViewStation LCD enclosure. The innovative enclosure solution is displayed in an upper level exhibition terrace at the Whitney Museum of American Art in New York City. This project required a quick turnaround and ITS was able to deliver to the customer in a timely manner.

In early 2015, The Whitney Museum contacted ITSENCLOSURES to discuss the possibility of ordering an environmental enclosure for a large LCD. The enclosure would be used in an outdoor area, at the museum, in the varying hot and cold temperatures of New York City. Ed Calhoun, ITSENCLOSURES' Engineering Manager, was the project manager and worked diligently to make sure the project was accurately completed and, above all, on time.
Mr. Calhoun described what the Whitney Museum ordered from ITSENCLOSURES, "The 72" enclosure assembly was all aluminum construction with a polyester powder paint finish, laminated anti-reflective glass, and suited for the environment next to the Hudson River."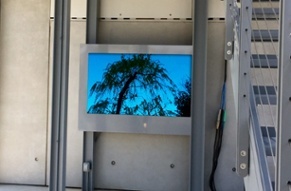 Because of the extreme temperatures in New York, there was a need for a heating/cooling unit. Mr. Calhoun explained, "The enclosure assembly provides thermostatically controlled ambient air cooling or heat to the 72" display, as well as a networked temperature monitoring capable of issuing email alerts triggered by "out of limit" temperature readings inside the enclosure. The ambient light sensor on the LCD and the temperature controlled heat and cooling system reduce the overall electric power consumption, while providing the necessary operating environment for the display."
ITSENCLOSURES' President JT Spangler was pleased that the overall project was a success. "We are always thrilled to see an outdoor LCD enclosure installation go smoothly for our clients and the fact that it is more energy efficient is a plus," said Mr. Spangler. "Overall, this was a 'rush job' and the ITS team delivered and delivered in a big way. I am proud to work with such a talented and effectual staff. Teamwork has always been the key to our total success."
Raquel Coward, a project manager for Diversified Media Group, was also elated with the enclosure installation and sent ITS an email about the experience, "We installed the enclosure at The Whitney and had to reach out and let you know how impressed everyone was with the design of the enclosure. Many thanks for providing us with a great product and being a pleasure with which to work."
Production Manager, Shannon Roberts, added, "Our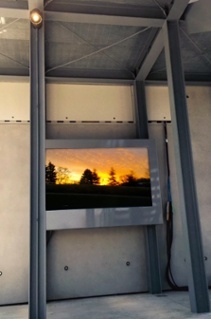 enclosure expertise, as well as our new fan cooled technology, has allowed our ViewStation line to be customizable to many different monitor sizes without a major engineering effort. The Whitney Museum is proof of that concept. We were tasked with enclosing a 72" monitor with structural mounting constraints and a tight production schedule. We were able to overcome both time and redesign parameters and deliver a complete solution for our customer."
Mr. Calhoun was also happy with the final results, "The right product for the right application; we love it when a project is well executed!"
The Whitney, which opened its new location on May 1, 2015, specializes in the art of America. "As the preeminent institution devoted to the art of the United States, the Whitney Museum of American Art presents the full range of twentieth-century and contemporary American art, with a special focus on works by living artists. The Whitney is dedicated to collecting, preserving, interpreting, and exhibiting American art, and its collection--arguably the finest holding of twentieth-century American art in the world--is the Museum's key resource."
ITSENCLOSURES' innovative line of ViewStation products includes vandal proof, all-weather LCD enclosures, outdoor digital menu boards, protective LCD covers, and kiosk solutions for all of your digital signage protection needs! Since 1985, ITSENCLOSURES has been revolutionizing enclosures used by companies in the United States, Canada and the Caribbean. Enclosures by ITSENCLOSURES are always 'Made in America!'
Contact:
To learn more about ViewStation or ITSENCLOSURES, please contact:
Jennifer Bissell, Director of Sales & Marketing, 1-800-423-9911 –or– info@itsenclosures.com