ITSENCLOSURES DONATES TO THE UNIVERSITY OF PITTSBURGH'S 'FALK LABORATORY SCHOOL"
Mt Pleasant, PA (March 11, 2015) – ITSENCLOSURES, the leader in computer and display enclosure protection, recently made a generous donation to the Falk Laboratory School, located in Oakland, Pennsylvania. Affiliated with the School of Education at the University of Pittsburgh, the Fanny Edel Falk Laboratory School is a K-8 tuition-based laboratory school, which is known for providing a learning environment that is grounded in community, diversity, and progressive and experimental education.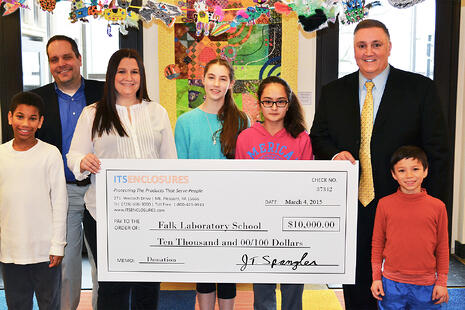 ITSENCLOSURES' President, J.T. Spangler was on hand to deliver a $10,000 check to the Falk Laboratory School on March 4th, 2015. "It's an honor to donate to such a wonderful institution," said Spangler. "We love the fact that we are helping young minds become better educated and better trained to go out in the real world and make a real difference. These students work hard and want to excel, and we certainly admire their tenacity."
ITSENCLOSURES' donation will help students by providing tuition assistance to attend the Falk School. Students must be eligible for the program and within the boundaries of a low-achieving school.
Michael Haas, the Director of Constituent Relations for Pitt's School of Education and Falk School, was most appreciative of the donation, "The generous support from ITSENCLOSURES, under the Opportunity Scholarship Tax Credit program, is important to the Falk School, because it is helping us assure the best future for our students. Scholarship aid will always be a priority to maintain Falk as a school with a diverse, community-based student body," he added, "Falk School is focused on progressive education principles, which means the school community has a child-centered approach to learning. It focuses on the social, emotional and academic needs of each child and has an emphasis on collaboration, intrinsic motivation, and active learning."
This marks the fifth consecutive year that ITSENCLOSURES has made a charitable donation to an educational institution in the local community. The donations go a long way in helping youth programs across Western Pennsylvania. "We plan on making donations to educational institutions for many years to come," said Mr. Spangler, "kids are obviously the future of America and we want to make sure that they are ready to tackle anything that life throws at them. You cannot put a price on molding young minds."
Overlooking the campus of the University of Pittsburgh, Falk School is located in the Oakland neighborhood of Pittsburgh. Falk School is recognized for providing a learning atmosphere that is individualized with a low teacher-student ratio. The core curriculum is enhanced with weekly classes in art, Spanish, physical education, yoga, library and computer technology. Extra-curricular activities include music lessons, chess, robotics and yearbook. Sports include basketball, cross-country, soccer and tennis.
For more information on ITSENCLOSURES and their wide array of innovative products, please visitwww.ITSENCLOSURES.com or contact 1.800.423.9911.