ITSENCLOSURES Donates Part of the Cost of Kiosk for Vietnam Veteran Memorial at Chartiers Valley School District
Mt. Pleasant, PA (June 21, 2016) -- With over three decades of enclosure experience, ITSENCLOSURES has many successful installations in quick service restaurants, transit stations, malls, war memorials, airports, and stadiums throughout the United States, Canada and the Caribbean. The latest deployment is at Chartiers Valley High School, located at 50 Thoms Run Road in Bridgeville, Pennsylvania, where a touchscreen kiosk was installed to commemorate those who gave their lives for America during the Vietnam War.
The kiosk installation was a project that students have been researching and planning for a significant period of time. Students participated in fundraising efforts to raise enough money to install the kiosk on the school campus. Chartiers Valley School District contacted ITSENCLOSURES, an enclosure company, to review some options for this memorial kiosk.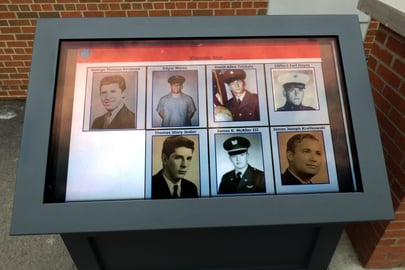 Chartiers Valley chose a pulpit style kiosk with a similar design to one that was installed at Santana Row, an outdoor mall in San Jose, California. The kiosk incorporates a 46" high bright LCD monitor, projective capacitive touch foil, and an air conditioner - with heater - to protect against the harsh weather extremes in Pittsburgh, Pennsylvania.
The kiosk will be used to show videos and images of those that were lost from the Chartiers Valley School District. Friends and family of the fallen are able to pull up pictures and video of their lost loved ones on the screen.
To help make this project a reality for the students at Chartiers Valley, ITSENCLOSURES made a charitable donation to defray the costs of the kiosk. JT Spangler, ITSENCLOSURES' President, was humbled by the fact that an ITSENCLOSURES kiosk system would be used to honor fallen soldiers, "To have one of our enclosures used for a local war memorial is a great honor that we do not take lightly at ITSENCLOSURES. This is the second war memorial that we have installed in our community. We jumped at the opportunity to help."
The kiosk was officially dedicated at 10:00 am on Friday, May 27th at a ceremony on the school campus.
--
ViewStation's innovative line of products by ITSENCLOSURES provides vandal proof, all-weather LCD enclosures, outdoor digital menu boards, protective LCD covers, and kiosk solutions for all of your digital signage protection needs! Since 1985, ITSENCLOSURES has been revolutionizing enclosures used by companies in the United States, Canada and the Caribbean.
For more information on ITSENCLOSURES and their wide array of innovative products, please visit www.ITSENCLOSURES.com or contact 1.800.423.9911.