ITSENCLOSURES Announces the TITAN Winner
Mt. Pleasant, PA (September 4, 2015) – In honor of the company's 30th anniversary, ITSENCLOSURES is proud to announce the winner of an IceStation TITAN. ITSENCLOSURES asked customers to submit digital pictures of IceStation enclosures installed on a factory or plant floor. The customer that submitted the best installation picture(s) would win a NEMA 12 IceStation TITAN computer enclosure.
The ITSENCLOSURES' grand prize winner was Patrick A. Miller from Senior Flexonics Pathway (A Division of Senior Operations LLC) in New Braunfels, Texas. The TITAN package is valued at over $3,500, including a filtered fan system, 6 outlet surge protector, and shipping charges. Due to the overwhelming number of entries, ITSENCLOSURES chose Nestle Prepared Foods Group in Springvale, Utah as the second place winner for the contest.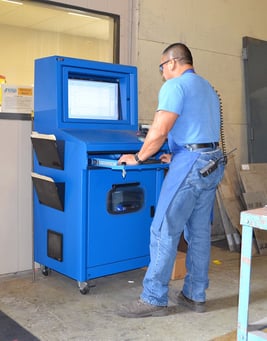 JT Spangler, ITSENCLOSURES President, was very happy with the response, "Congratulations to our two winners! It was exciting to look at all of the pictures submitted. This contest was a huge success for our company and products and it was great that the contest coincided with our 30th anniversary. We enjoy seeing our products in factory, manufacturing, and industrial settings, especially when we hear about how our enclosures make a customer's process better or more efficient. Our enclosures are built to last forever and we stand by that promise."
Patrick A. Miller, the TITAN grand prize winner, discussed how the IceStation has been a great asset to his company's overall success, "The products that Senior Flexonics Pathway makes [are] in some of the harshest environments in the world. IceStation units were a perfect fit for our company," Mr. Miller continued, "These units have given our shop employees the ability to access internal system applications and to speed up the processing of part issues."
Mr. Miller explained how his company has been using the IceStation products, "The flexibility has been a definite plus as the IceStation [units] have been really easy to adapt to our specific needs. We have a wireless computer inside of the unit, along with a wireless barcode printer. We placed magnetic folder holders on the side of the unit to give employees a place to drop-in pick tickets, when they are through with them. Our employees are able to do part issues, print barcodes labels, check drawings, review hotlists, welding procedures and to clock in and out of jobs."
According to ITSENCLOSURES website, The TITAN is "the perfect choice for protecting electronics from dust, dirt and splashing fluids. The features of the TITAN include a viewing window designed to accommodate a 24-inch wide screen format display, various thermal management options, adjustable monitor shelf, integrated keyboard drawer with sloped work surface, locking castors, and rear split panel for cable entry."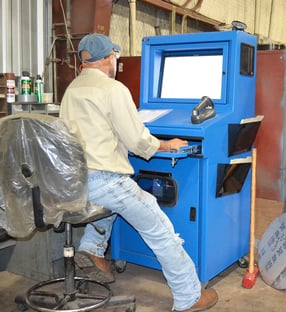 When asked what Mr. Miller liked best about the IceStation line of products, he expanded, "The units themselves are rugged and well designed. The Plexiglas [hinged printer door] was a great add-on option, because employees can remove barcode labels without needing to open the whole front door, which is much faster and convenient. The roll out tray works extremely well. We have to change ribbons and labels on the printer and it is very easy when we are able to pull the service tray out completely." Mr. Miller added, "The IceStation has even been a fantastic mobile inventory station. We placed it under a tent in the receiving yard. It saves employees a great deal of walking, when they can take inventory, print labels and scan barcodes, at the point of where the work is actually being done."
Mr. Miller concluded, "As Senior Flexonics Pathway runs leaner, we look for ways to update our processes and great technology is important. Ways to protect those investments are even more important. We've tested other stand-alone units, and IceStation has been an exceptional addition to our facility!"
ITSENCLOSURES designs and builds the most durable, toughest computer enclosures on the market. IceStation NEMA rated PC and electronic enclosures are ideal for any environment where dust, grease, dirt and exposure to liquids/corrosives are present.
Please consult an ITSENCLOSURES sales expert today. For more information on ITSENCLOSURES and their wide array of innovative products. Please email ITSENCLOSURES directly (info@itsenclosures.com) or call 1.800.423.9911 to speak to a salesperson.
To watch our video announcement: Click Here
For more information on the IceStation TITAN: Click Here