Barbadian RESTAURANT CHAIN 'CHEFETTE' TEAMS UP WITH ITSENCLOSURES
Mt. Pleasant, PA (October 31, 2013) As digital signage continues to grow, so do the number of quick service restaurants (QSR's) making the transition to digital menu boards, especially in the drive-thru. Many large QSR chains are making positive strides to add outdoor digital menu boards to their stores. With the power of suggestive selling, the ability to make changes to menu items quickly and the opportunity to maximize high profit sales items, it comes as no surprise that other QSR's are following suit.
Chefette Restaurants Ltd, a family owned quick service restaurant chain located on Barbados, made the transition to digital menu boards in early 2013. Chefette's goal was to remain ultra-modern and strengthen its brand image. Digital menu boards solidified Chefette's cutting edge reputation.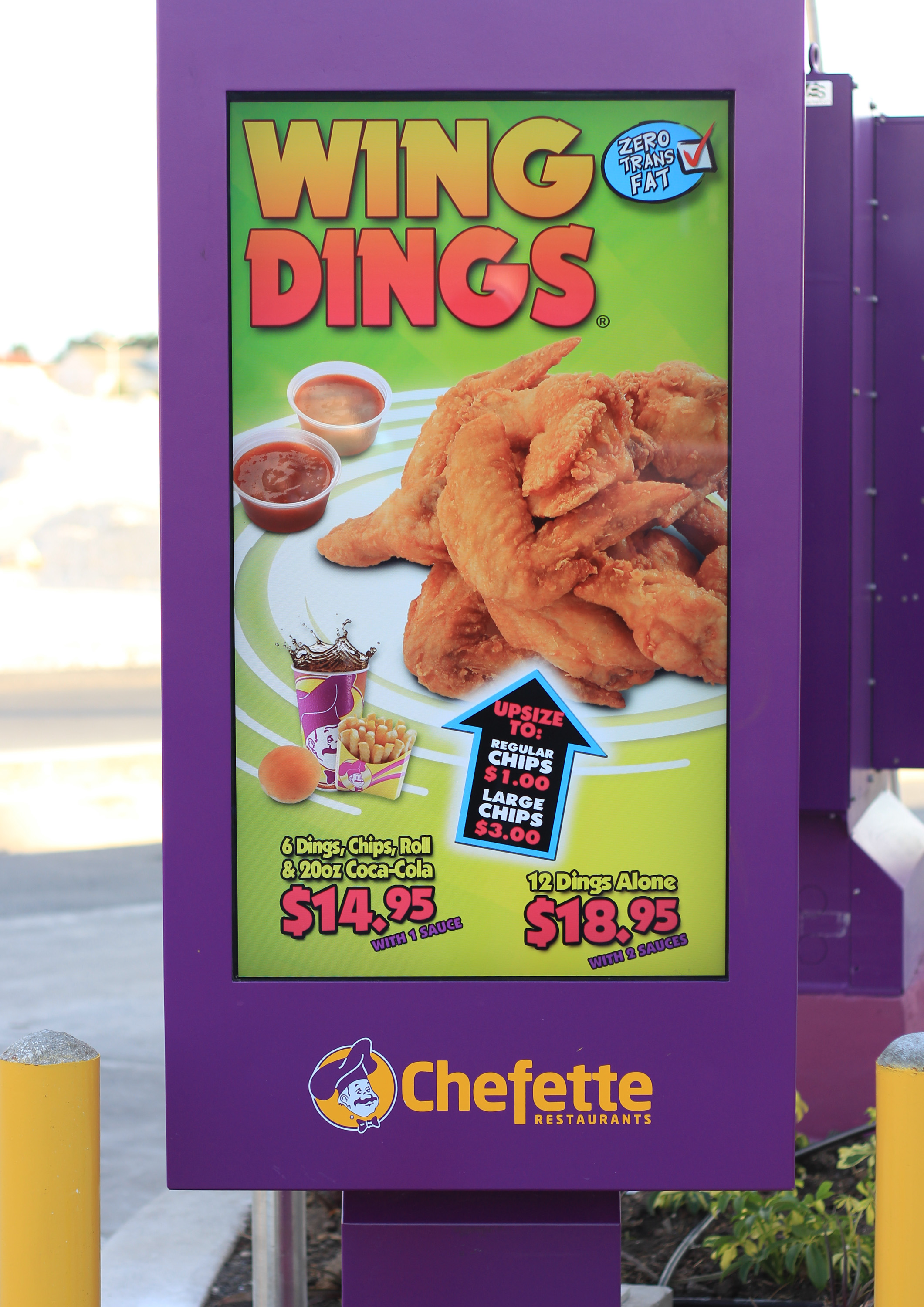 The Barbadian company operates the leading QSR chain on Barbados under the brand 'Chefette' with 14 locations and a fast casual restaurant chain under the brand 'Barbecue Barn' with 2 locations. Chefette made the decision to go completely digital with their interior and exterior menus. Ryan Haloute, Managing Director of Chefette stated, "Our goal was to continue our legacy of an industry leader by being innovative. We wanted our brand to be on the cutting edge of technology and look very modern, especially with the incorporation of the new outdoor digital menu boards in our drive-thru's, which was the first for the region."
Being located on a Caribbean island, Chefette faced challenges in choosing a digital menu solution that would suit their needs. They needed to find a particularly robust outdoor hardware solution given the salt air environment and oppressive heat and humidity present throughout the year. ITSENCLOSURES was chosen as the hardware provider due to their vast experience and specialization in outdoor digital menu boards for QSR drive-thru restaurants in the United States.
Chefette installed ITSENCLOSURES' ViewStation QSR triple screen menu board outdoors at their 10 drive-thru locations. Some locations also included a single display pre-sale digital board. Chefette had the ability to customize the exterior of the enclosures with their restaurant colors to increase brand awareness and give the new menu system a fresh look.
Interior menu boards consist of a number of 46" LCDs tiled in portrait orientation. The digital menu screens allow flexibility to the restaurant chain's one-stop full dining experience. In addition, Chefette is able to keep its customers, staff and visitors informed and highlight the substantial amount of community outreach programs Chefette champions.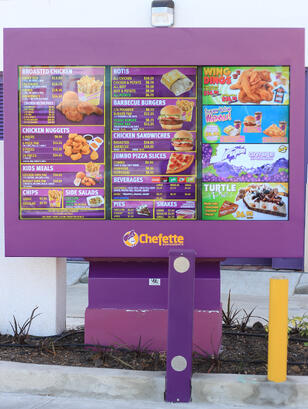 Installations were completed during an overnight period to eliminate any interference with normal business hours. Chefette customers were completely amazed at how seamless the transition went from static to digital menu boards went.
Since the installation, Chefette has measured the impact digital menu boards had on their customers. The new menus resulted in a visually positive face lift that made stores appear like they were completely renovated. In addition, ordering time per customer dropped significantly due to better layout of the menu in a digital format and overall cue time has decreased considerably from order entry to customer delivery. Chefette continues to receive positive clientele feedback about how attractive and enticing the new digital menu boards are in an overall customer experience.
To keep up with the growing demand of outdoor digital menu boards, ITSENCLOSURES recently announced its second generation ViewStation QSR line. "We are very excited to launch our next generation in outdoor digital menu boards," says J.T. Spangler, president of ITSENCLOSURES. "The new and improved ViewStation QSR models support much lower operating costs, which is extremely important to our customers. The new design represents a big leap forward from our first generation enclosure product and utilizes the latest in 'green' technology available."
The ViewStation QSR product line is available in many configurations to meet the specific needs of each restaurant group. A single screen enclosure is available for pre-sell marketing displays while two and three screen configurations to support a QSR full menu.