Curtis Hixon Waterfront Park (Tampa Bay, Florida)

PARK SYNOPSIS
:
The Curtis Hixon Waterfront Park is an 8-acre park, located in downtown Tampa Bay, Florida, along the Hillsborough River. Surrounded by lush palm trees, the state-of-the-art park features reclaimed water for irrigation, a riverwalk, and LED lighting. According to the 'Visit Tampa Bay' website, "amenities include the Great Lawn with flexible perimeter seating to accommodate a wide range of programming and performances, a dog run, a kiosk with restrooms, and a pavilion building with restrooms, park offices, and space for a future vendor."

HOW DID CURTIS HIXON PARK FIND ITSENCLOSURES:
The Tampa Downtown Partnership was in search of an all-weather LCD enclosure to be installed in the town's newly developed Curtis Hixon Waterfront Park. The digital signage would be deployed outdoors in the direct sun. Tampa contacted ITSENCLOSURES, because of the company's experience in installing outdoor LCD enclosures across the United States. In fact, a partnership member took note of an ITSENCLOSURES' LCD monitor enclosure at a coffee shop (nationally known), in Tampa, while grabbing a coffee and donut. As soon as he saw it, he knew it was the perfect fit for the park!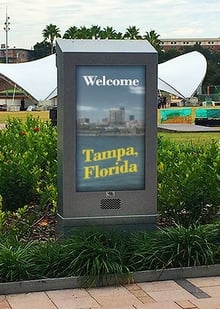 PROJECT:
The main function of the digital signage would be to display upcoming events and Tampa Bay area announcements. The Curtis Hixon Waterfront Park team was also interested in a practical solution that would allow them to make changes to the signage instantly and/or revise content quickly and efficiently.


CHALLENGES:
When installing an LCD outdoors, the sun can be a hindrance. Florida's hot, muggy weather conditions were one of the largest concerns. Thermal management was discussed, at length, to combat hot temperatures during a large portion of the calendar year. The proposed LCD enclosure solution needed to be operational 7 days a week… from the early morning until 10 p.m. when the park is closed to the public. Vandalism of the glass window was also cause for alarm, as the enclosure would be out in the open and could be damaged by visitors.


SOLUTION:
After funding was approved, the enclosure was shipped and installed. The Curtis Hixon Waterfront Park placed the all-weather, LCD enclosure in one of the park's flower gardens. It is mounted on a cement footer, surrounded by plants and flowers, and can be seen by tourists and locals taking a walk or visiting the park for a concert. Overall, the solution includes a 47-inch, 2000 nit high-bright LCD monitor, anti-graffiti film to protect the enclosure window, a temperature and humidity sensor, and thermal management to guarantee operation in direct sunlight - with a temperature range of -40° to 120° F. To update the sign's content, a media player is installed on the inside of the enclosure.


SUMMARY OF PROJECT:
The LCD enclosure has been in operation for many years and continues to perform at the highest level, even in the humidity and heat of Florida. The digital signage shows announcements and events for the Tampa area.


ADDITIONAL PRODUCT INFORMATION:
HAVE QUESTIONS?
Let us know how we can best assist you!


Contact an 'ITSENCLOSURES expert' at 1-800-423-9911 -OR- send us an email:

info@itsenclosures.com