Automotive Glass Supplier Adds TITAN Computer Enclosures to the Plant Floor
Mt. Pleasant, PA (July 29, 2016) – ITSENCLOSURES, the leader in heavy-duty computer, printer, and monitor enclosure protection, recently deployed freestanding NEMA 12 IceStation TITAN enclosures at a few automotive glass manufacturer plants, located in the Midwest of the United States.
The automotive glass plant is an OEM glass supplier to major auto manufacturers, including General Motors, Ford, Toyota, Audi, Volkswagen, and Mercedes, just to name a few. The plant contacted ITSENCLOSURES about installing a freestanding computer enclosure that would protect electronics and withstand harsh everyday use on a manufacturing floor. Before making a purchasing decision, the automotive glass manufacturer reviewed the IceStation TITAN computer enclosures in-house for a number of weeks. After an encouraging evaluation, the company issued a purchase order for 130 cabinets.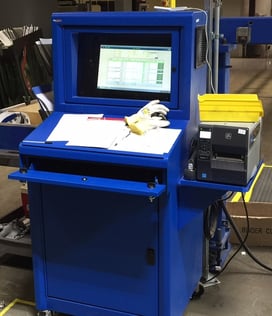 JT Spangler, President at ITSENCLOSURES, recently visited one of the locations in Ohio and was impressed with how the TITANs are utilized on the factory floor in a challenging production environment. "The TITAN is a heavy-duty enclosure solution for industrial areas that contain dust, dirt, grease and splashing fluids." Spangler continued, "I enjoy visiting customers to gain a better understanding of how our products are used, so that we can continue to improve our products' utility in production environments. Our products perform at the highest level for our customers and are engineeried and built right here in the USA to last forever."
The robust TITAN solution included a side mounted shelf to support a thermal transfer, barcode printer. A sealed cable entry gland, installed next to the shelf, easily routes data and electrical cables without jeopardizing the NEMA 12 enclosure rating. To keep electronics running at optimum temperatures, a 200 CFM filtered fan system with a thermostat was installed on the enclosure.
The automotive glass supplier is very pleased with the performance and sturdiness of the IceStation TITANs and expects to order more in the future. When asked about the TITANs, employees, that actually use the equipment, had nothing but positive comments. One employee stated, "We have had other cheaper enclosures on the floor, and they all failed in a short period of time. Only IceStations seem to stand up to every day use in this environment."
With the versatility to accommodate up to a 24-inch wide screen monitor, a sloped work surface with an integrated keyboard drawer, and enough space to house a PC, monitor, and printer, the NEMA 12 TITAN is ITSENCLOSURES' most popular computer enclosure product. The IceStation TITAN is also available in a NEMA 12 desktop and NEMA 4X stainless steel version.
---
About ITSENCLOSURES
Located 36 miles southeast of Pittsburgh in Mt. Pleasant, Pennsylvania, ITSENCLOSURES designs and builds the toughest computer enclosures on the market. NEMA rated PC enclosures are ideal for any and all environments where dust, dirt and exposure to liquids or corrosives are present.
ITSENCLOSURES' line of computer enclosures, printer enclosures, server enclosures, and LCD enclosures protect a company's investment and maximize the lifetime of the electronics protected. ITSENCLOSURES' products are always 'Made in the USA' and allow companies to safely use any computer or monitor in the harshest operating environments. ITSENCLOSURES has been helping companies protect technology investments and realize the maximum life cycle of their equipment since its founding in 1985.
For more information on ITSENCLOSURES and their wide array of innovative products, please email ITSENCLOSURES directly (info@itsenclosures.com) or call 1.800.423.9911 to speak to a salesperson.